Trimandir: The Architectural Design Reflecting The Spiritual Ideology
With the intent to unify religious differences (leading to sectarianism), Spiritual Master Dada Bhagwan envisioned the concept of the Trimandir. Encompassing three different temples under one roof, the Trimandir boasts an architectural design which radiates the distinct spiritual ideology. This is because the holy edifice is the home of the idols of Gods of Jainism, Shaivism, and Vaishnavism (along with Gods and Goddesses of other religions), all sharing equal reverence on the same platform.
Building a non-sectarian temple is Param Pujya Dadashri's symbol of salvation. He dreamed of a time when 24 Trimandirs would be constructed. Today, His dream is in the process of materialization with majority Trimandirs already completed and numerous such temples in India as well as in other countries in process.
Among all the Trimandirs, the first and the largest Trimandir built to-date is located in Adalaj, on the outskirts of Ahmedabad, Gujarat, India. The building design features an impressive two-storey structure housing a "Gigantic Hall" for satsang (spiritual discourses) on the ground floor, and the temple above.
The "Gigantic Hall" measures 31,250 square feet and has a seating capacity of more than 6,000 people. With modern acoustics and cutting-edge technology in cameras, projector screens, and live Internet relays, the hall is unique within the state of Gujarat.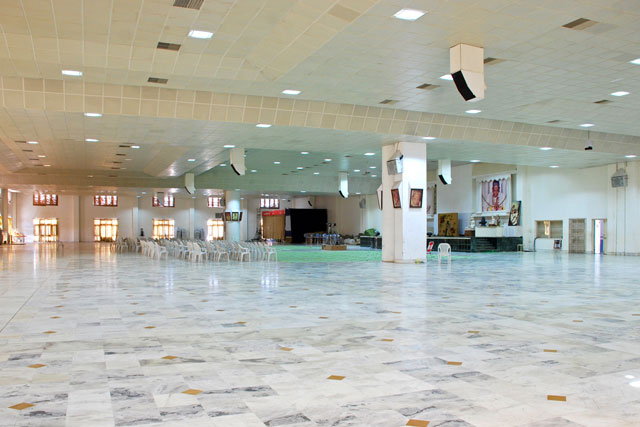 Above the satsang hall, the contemporary architecture embraces a podium measuring 20,000 square feet. Upon the podium, a 13-foot idol of Lord Simandhar Swami resides, which is surrounded by large idols of Lord Krishna, Lord Shiva, Lord Balaji, Shri Saibaba, and numerous Tirthankaras, protecting Goddesses (Shaashan devis), and a divine array of other Gods and Goddesses. The building design also features a museum and mini-theatre showcasing the life events of Gnani Purush Dada Bhagwan along with the emergence of Akram Vignan. The surrounding landscape architecture holds Amba refreshment (food area), Vignan Bhandar (book store), and the Store of Happiness (kids zone).
Each morning, the Trimandir radiates divine energies as devotees from all religions, castes, and walks of life participate in nishpakshpati (unbiased) puja (devotional ceremony of sacred offerings), arati (devotional ceremony of sacred light), and bhakti (devotional prayers, and songs).
By night, the Trimandir's grand chandeliers, create a divine atmosphere - illuminating the majesty of the Gods, Goddesses, and the devotees doing darshan (devotional vision).
Take a glance of 360 degree panorama of Adalaj Trimandir: